Memory Net Remembrance Project
In recognition of the 80th anniversary of Executive Order 9066, Densho is launching a new community art initiative: the Memory Net Remembrance Project. Together with Densho resident artist Lauren Iida, we invite submissions of "memory objects" that symbolize hope, strength, and/or resistance for you or your ancestors during WWII Japanese American incarceration.
Lauren will select from these objects to incorporate into a 30-foot-long cut paper net to be hung as a semi-permanent installation in Densho's community room. Please join us in this powerful act of remembrance! The Memory Net will be unveiled on February 19th at 3pm PST.
Watch the Live Unveiling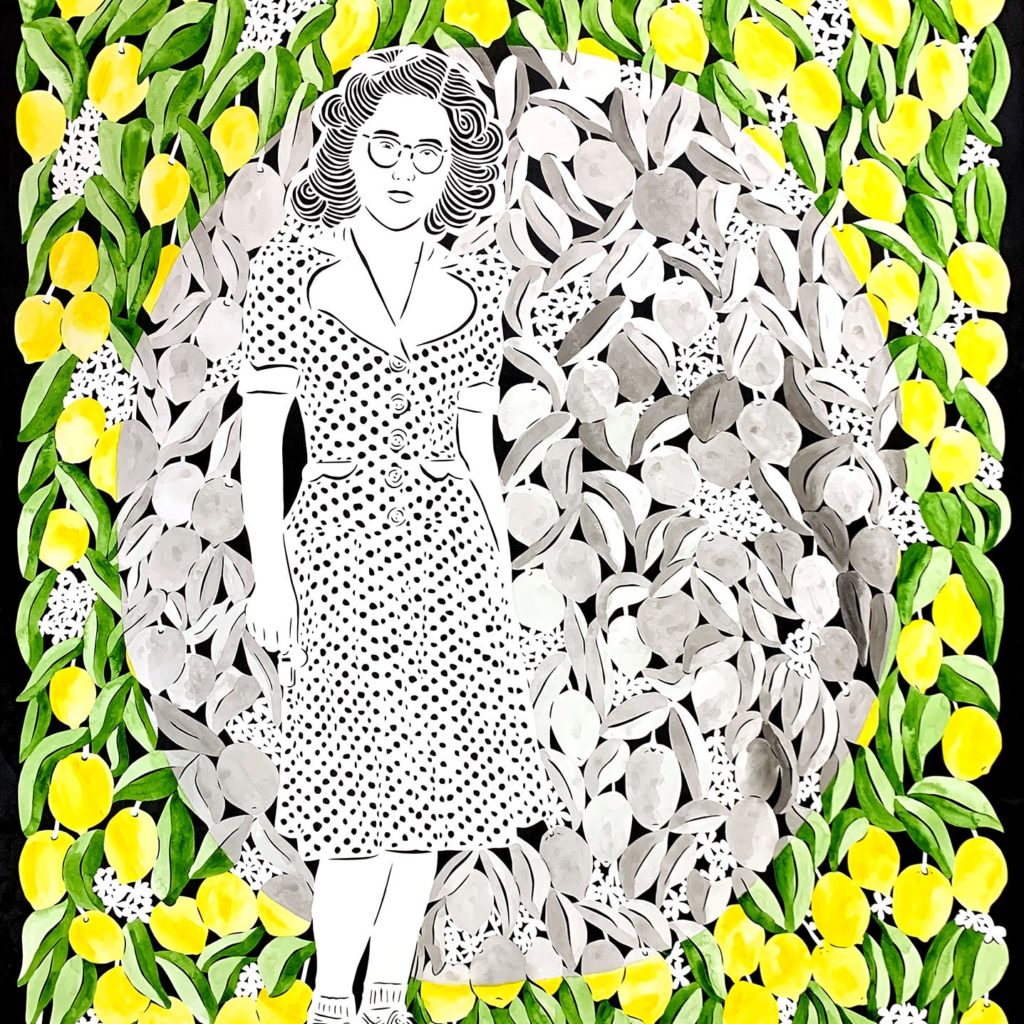 Lauren Iida | Citizen's Indefinite Leave
ArtXchange Gallery presents Citizen's Indefinite Leave, a new series of intricate paper cutaways by Lauren Iida incorporating historical scenes from the unjust incarceration of 126,000 people of Japanese ancestry in the USA during World War II. With the assistance from Seattle-based organization, Densho, Iida was able to dive deeper into her own family's history and create a narrative exhibition that explores questions of citizenship, belonging and home. With access to Densho's vast digital archives and personal assistance from their archivists and historians, as well as her family's personal collection of photos, Iida created works with references to real places and real people, blending them with surreal painted backgrounds and dreamlike characters that embody the fears, anxieties and hopes of the time.
The narrative thread running throughout Iida's exhibition is the story of Clara, the older sister of Iida's grandmother. While investigating her family's personal archives, Iida came across Clara's "indefinite leave" pass, giving her early release privileges from Tule Lake, CA where she was incarcerated. The artworks in Citizen's Indefinite Leave pay homage to the struggle of Iida's grandparents and great-grandparents and explores how the trauma of this era has influenced her own relationship with her Japanese American cultural heritage. Iida writes, "Having been robbed of my cultural heritage by the unjust incarceration of my ancestors, and the subsequent lack of education they were able to offer me as a child, I have had to turn to historical artifacts to learn about my own ethnic roots as an adult, through my own art-making process and research."
More Info
Conversations about Nomura
Join Tom Ikeda and art historian Barbara Johns in a conversation about Kenjiro Nomura at Cascadia Art Museum in Edmonds, WA on February 13. Johns is the author of Kenjiro Nomura, An American Modernist: An Issei Artist's Journey, her fourth book about immigrant-generation Japanese American artists in Seattle. Ikeda and Johns will discuss Nomura's World War II experience and the impact on his life and art. Expect a lively conversation!
Buy Tickets