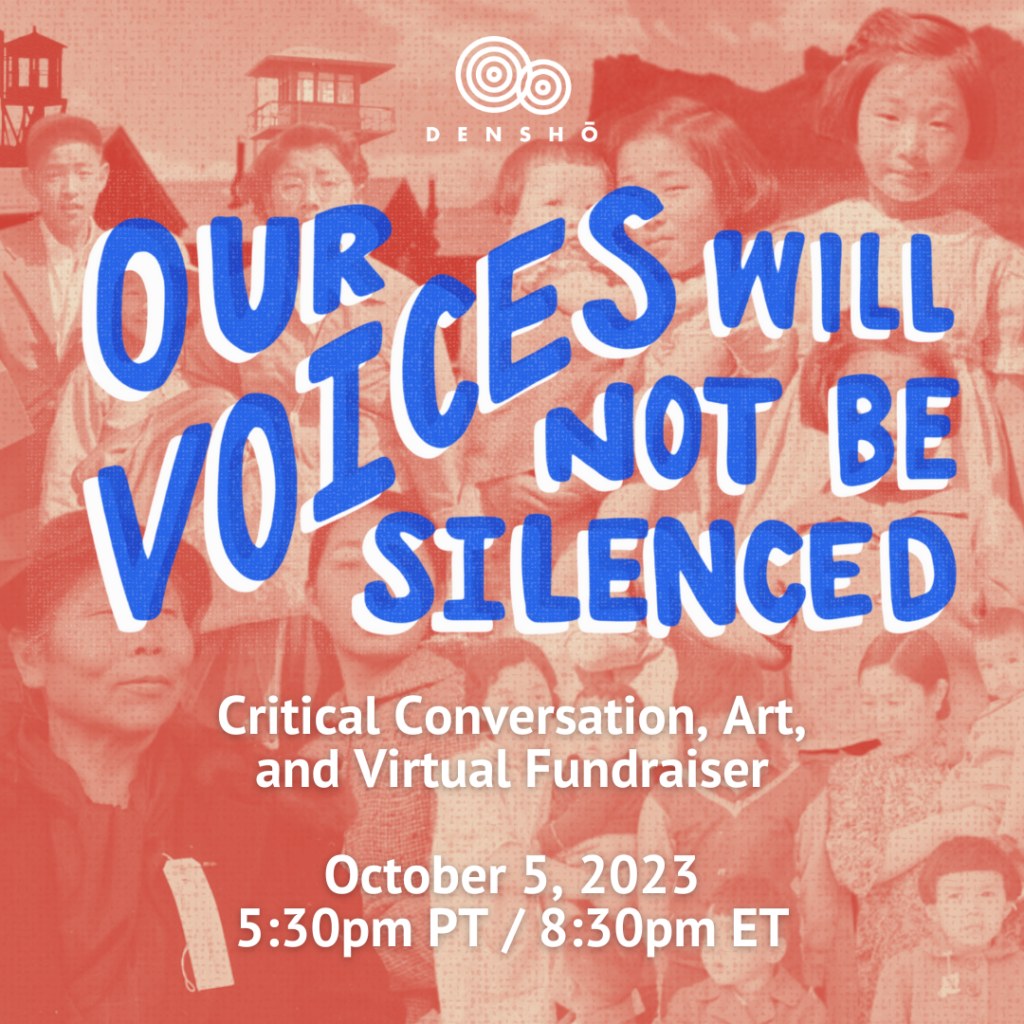 Our Voices Will Not Be Silenced: Critical Conversation, Art, and Virtual Fundraiser
We are witnessing a new era of whitewashing. Book bans, censorship, and attempts to sanitize our nation's past are all on the rise – so it's more important than ever that we raise our voices and collectively refuse to be silenced. Join us for a conversation with "Love in the Library" author Maggie Tokuda-Hall, who bravely stood up against Scholastic Inc. earlier this year when they attempted to censor her use of terms like "racism" in an author's note about her grandparents' incarceration experience.
Documenting stories and fearlessly speaking the truth is core to what we do at Densho. And while we uplift the voices of thought leaders like Maggie and WWII incarceration survivors alike, we need your help in carrying that work into the future. Please join us for this evening of conversation, performance, and capacity-building for Densho.
This one-hour virtual program is free to all who register. In addition to a featured conversation between Maggie Tokuda-Hall and Densho Executive Director Naomi Ostwald Kawamura, the program will include a live musical performance by Tomo Nakayama, a poetry reading by traci kato-kiriyama, and will be hosted by Erin Shigaki and Brady Wakayama.
More Info
Family History Workshop with Densho
Join Densho's archives director, Caitlin Oiye Coon for a virtual workshop on Japanese American genealogy/family history. We will start with the basics of researching and writing your family history, then move into researching your family's experiences during the decade of 1940-1950. Topics to be explored in greater depth include federal arrests, exclusion, incarceration, and relocation. You'll leave this one-hour workshop with tools and resources that will help you gain a fuller picture of your family's WWII incarceration experience and more.
Register
Writing What Haunts Us: New Works by Yonsei Authors
Join us as we launch new books by Yonsei authors Brynn Saito, Brandon Shimoda, and Jami Nakamura Lin. Their work spans multiple genres but all orbits around intersecting themes of hauntings, inheritance, dreamworlds, collective pasts, and imagined futures. Each author will read from their new works, then come together for a conversation moderated by poet Troy Osaki. This program is supported, in part, by the City of Seattle Office of Arts & Culture and presented in partnership with Tadaima and The Elliott Bay Book Company.
More Details