August 29, 2016
There are now literally a couple of hundred documentary films about some aspect of the forced removal and incarceration of Japanese Americans during World War II. Unfortunately, many of them are difficult to view, requiring some effort to track down a DVD or even VHS, with few available through streaming services. This is particularly true some of the older films that were made in the 80s and 90s, many of which are among the best such films. 
Thankfully, there are some good ones that can be viewed online without charge.
1. An American Contradiction (2012, 13 minutes)
Filmmaker Vanessa Yuille goes to visit the Heart Mountain site, where her mother was born, to learn more about its history. Through interviews with former inmates—particularly Bacon Sakatani—and local residents and experts (none of whom, save for Sakatani, are identified until the ending credits), she provides a good and brief overview of the mass removal and incarceration and of life at Heart Mountain. The film concludes with Sakatani leading what looks like a local community meeting in a discussion about whether the camp should be called a "concentration camp." One of the better short introductory pieces to the topic.
2. The Art of Gaman: The Story Behind the Objects (2010, 20 minutes)
This short documentary film by Rick Quan was a companion piece to the popular exhibition of arts and crafts from the concentration camps that has traveled all over the world in over the past decade. The film includes additional background on some of the key objects in the exhibition and an interview with its curator, Delphine Hirasuna.
3. California's Gold with Huell Howser
Episode 4012, "Manzanar" (2002, 29 minutes)
Episode 7003, "The Songbird of Manzanar" (2005, 25 minutes)
For those of us from Southern California, Huell Hower was a fixture on local public television for many years. His folksy travelogues of notable places in California attracted an enthusiastic following. Chapman University has made the full run of Howser's last show, California's Gold with Huell Howser, available on its website. The archive includes two shows based on Howser's visits to Manzanar. The 2002 show includes interviews with activist Sue Kunitomi Embrey and photographer Archie Miyatake; Howser and crew also manage to track down three former inmate laborers who had carved their initials into a cement reservoir wall. He returned for the 2004 Manzanar Pilgrimage, producing a show profiling two artists at the camp, singer Mary Nomura and painter Henry Fukuhara
4. Colorado Experience: Amache (2013, 56/28 minutes)
Straightforward documentary on the Amache, Colorado, concentration camp produced by Rocky Mountain PBS and History Colorado in 2013. In addition to covering the history of the roundup and incarceration, the video also looks at contemporary efforts to preserve the site and keep the story alive. But like many of the newer documentaries, it is flawed by having relatively few former inmate voices represented, relying heavily on interviews with just two, May Murakami and Robert Fuchigami.
5. Dave Tatsuno: Movies and Memories (2006, 57 minutes)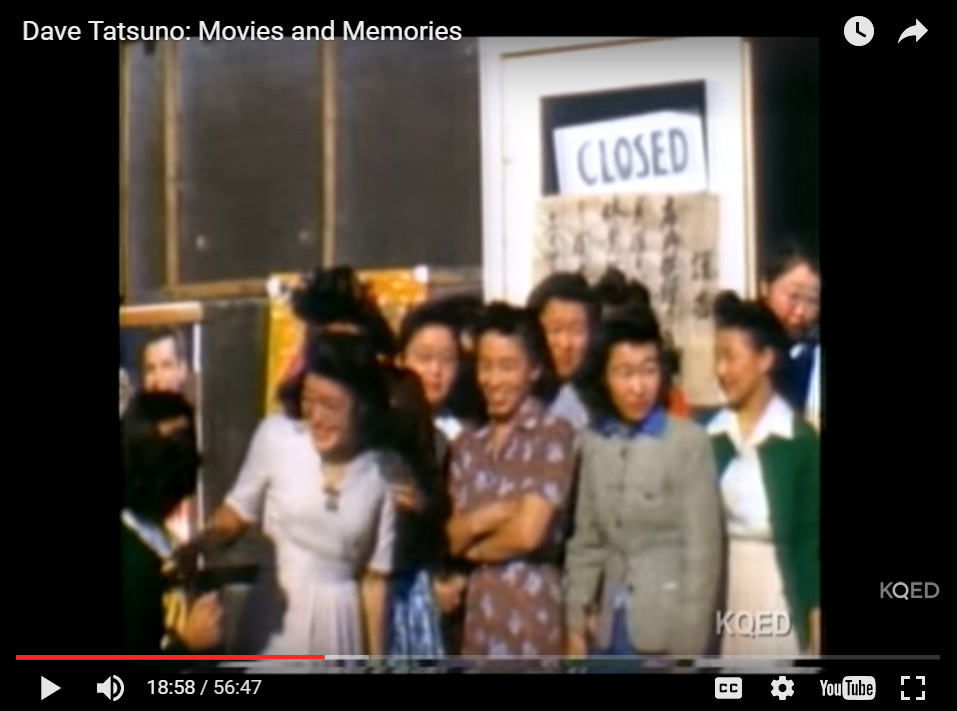 Another local public television production, this one by KTEH in San José, California (now KQED), Movies and Memories profiles San Francisco based Nisei Dave Tatsuno. A merchant and community leader, Tatsuno is today best known for Topaz Memories, color home movie footage he shot while incarcerated at Topaz. The documentary includes interviews with Tatsuno and various family members and includes a lengthy excerpt from Topaz Memories.
6. From Hawaii to the Holocaust (1993, 53 minutes)
One of many overview films on Japanese American military service, though with a bit of a twist, in that the last quarter of the film tells the then largely unknown story of the 522nd Field Artillery Battalion's encounter with Nazi death camps at the end of the war in Europe. Competently done, though the mixture of the overview story and the specific story of the 522nd doesn't mesh as well as it could. Produced in Hawaii by the Hawaii Holocaust Project, it is more focused on Hawaii, though it does cover the removal and incarceration.
7. Manzanar: Never Again (2008, 14 minutes)
In what feels like an extended TV news segment, a film crew goes to a Manzanar Pilgrimage and interviews participants about the history of the camp and its aftermath and on the evolution of the pilgrimage itself and the National Historic Site. Narration by Ken Burns fills in the story. Dedicated to Sue Kunitomi Embrey, the film also cover her key role the postwar history of the site. Manzanar is of five short documentaries focusing on ethnic minorities and the national park system developed in conjunction with Burns' The National Parks: America's Best Idea mega-documentary.
8. The Merced Assembly Center: Injustice Immortalized (2012, 53 minutes)
Competent documentary on denizens of Merced and the contemporary effort to build a memorial at the former "assembly center" site. It suffers from the same pitfalls as other recent documentaries, namely a skewed interview pool that includes mostly those who were youngsters in camp and a lack of fresh visuals specific to its subject. It is also misnamed (it is really about those who went to Merced, as opposed to the camp itself), a little too long, and a little too self-congratulatory in its tone (perhaps to be expected, since it was made by those who successfully built the monument). Nonetheless, it looks good and has no major missteps.
9. Pilgrimage (2003, 22 minutes) 
Stirring documentary film that traces the origins of the first Manzanar Pilgrimage in 1969 and links it to the 2005 pilgrimage and to efforts to uphold the rights of Arab and Muslim Americans after the 9/11 attacks in 2001. The film includes interviews with many of the organizers of the 1969 pilgrimage and archival footage and photographs of that event and of related events from that time. Directed and edited by Tadashi Nakamura, the film was a production of the Center for EthnoCommunications of the UCLA Asian American Studies Center in 2008.
10. Shiro Kashino: An American Hero (2015, 21 minutes)
Animated film that tells Kashino's story of volunteering for the 442nd from Minidoka, his wartime heroism, and his later court marshal for a fight in France, in a mostly first-person narrative. Based on the graphic novel by Lawrence Matsuda and Matt Sasaki, the animation is simple but effective, though the length is padded out a bit with a somewhat redundant five-minute biography of Kashino at the end. Though itself flawed, the earlier conventional documentary Kash: The Legend and Legacy of Shiro Kashino by Vince Matsudaira (2011, 68 minutes) is a better bet, though good luck finding that one.
—
By Brian Niiya, Densho Content Director
Related: More Japanese American Incarceration Documentaries You Can Watch Online for Free
[Blog header: A still from An American Contradiction)