June 16, 2021
Let's face it. It's hard to find queer voices within Asian American history. They're often erased from both mainstream (read: white) LGBTQ and Asian American narratives — but thanks to the work of some brilliant historians and community activists, that's beginning to change. In recent years, more of these stories have become available online in the form of archives, films, and other digital projects.
So as we celebrate queer Asian American history during Pride and beyond, here are 10 completely free online resources to explore these stories without leaving home.
Editorial note: You'll notice some variations throughout this article on the API/APA/AAPI label — see my explanation below.*
1. Seen and Unseen: Queering Japanese American History before 1945
"Seen and Unseen," curated by historians Amy Sueyoshi and Stan Yogi and hosted by J-Sei, is the first ever exhibit on the often erased history of queer Nikkei in the early 20th century. It brings to light a hidden past when same-sex relationships and defying gender roles were accepted parts of Japanese immigrant culture, and explores how LGBTQ Japanese Americans expressed themselves as the Nikkei community came to mirror white American fears of same-sex intimacy and gender nonconformity.
>> View the digital exhibit until June 30, 2021
2. Okaeri Voices
Los Angeles based resource and support group Okaeri hosts several oral history interviews with LGBTQ Japanese Americans on their site. Conducted as part of their 2018 Okaeri Voices project, the interviewees are all over the age of 60, in an effort to document the life stories of elders and trailblazers who "paved the way for others to live authentically."
>> Watch the Okaeri Voices interviews
Psst we've got an interview lined up with Okaeri leaders —stay tuned for more about this project soon!
3. The Dragon Fruit Project
The Dragon Fruit Project uplifts the stories of queer and trans API leaders and activists through oral histories, zines, a timeline of LGBTQ Asian and Pacific Islander history, and more. They also just launched a new podcast that is beautifully intergenerational and feels kind of like eavesdropping on a conversation between really smart and cool queer activist friends.
>> Explore the Dragon Fruit Project
4. "Breathing Fire: Remembering Asian Pacific Activism in Queer History"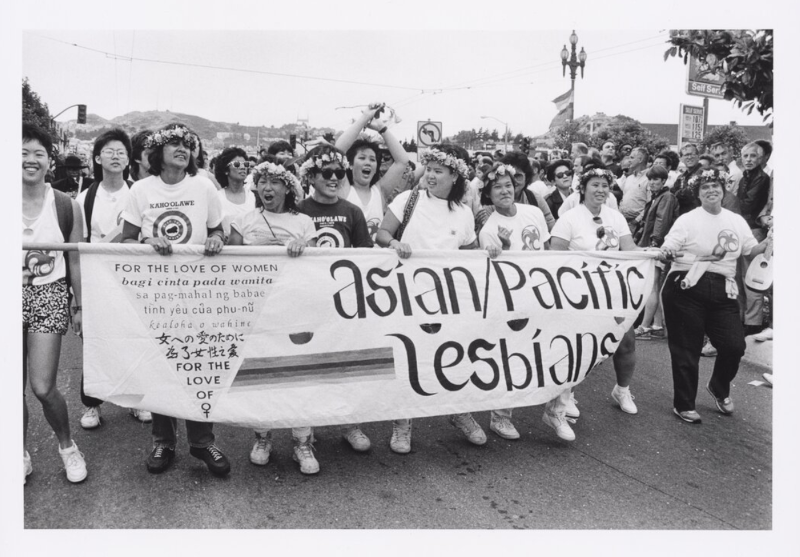 Written by Amy Sueyoshi and published in a 2016 National Parks Service study of LGBTQ history in America, "Breathing Fire" traces the lineage of Asian American queer activism, from same-sex intimacy in early Asian immigrant communities to Asian American AIDS activism in the 1980s and '90s to a younger generation of API queers organizing online today.
5. Searching for Queer Asian Pacific America
In this five-part documentary series, filmmaker Patrick G. Lee tells the stories behind specific moments in queer Asian American and Pacific Islander history. Each film is about 6-7 minutes long and features a lot of surprisingly intimate interview footage with the people who lived through this history, making them engaging and, if you're also a tenderhearted water sign, a little bit emotional to watch.
>> Watch Searching for Queer Asian Pacific America
6. SAADA Archive of Queer Brown Feelings
The South Asian American Digital Archive (SAADA) explores the history, memories, and lived experience of queer and trans South Asians through a collection of oral histories and forthcoming artifacts.
>> Check out the Archive of Queer Brown Feelings
7. A Day in the Queer Life of Asian Pacific America
This digital exhibition by the Smithsonian Asian Pacific American Center documents queer life in Asian American and Pacific Islander communities throughout the country. Much of it it focused on the present moment — which is arguably still unfolding history — but some of the poets featured in the "Queer Check-Ins" draw connections to the past, including Kitty Tsui, a founding member of the Unbound Feet Collective and author of the first book published by a Chinese American lesbian.
>> Explore the digital exhibit
8. Kiyoshi Kuromiya oral history via them
As this list attests, we have a lot of queer ancestors to celebrate and learn from. Critical Path and ACT UP Philadelphia co-founder Kiyoshi Kuromiya is someone who I think we should be especially proud of, both for his decades of activism and his complete rejection of respectability politics and cisheteronormativity. (My favorite Kiyoshi Kuromiya quote: "Homosexuals have burst their chains and abandoned their closets. We came battle-scarred and angry to topple your sexist, racist, hateful society.") This short film by Che Gossett and Luce Capco Lincoln lets you hear Kiyoshi tell his story in his own words.
9. The Asian/Pacific Lesbians and Gays & William S. Tom collections at ONE Archives
The ONE National Gay & Lesbian Archives contain a massive amount of historical materials on queer history. Two of their online holdings offer a peek at Asian American queer life in the 1980s and 1990s. The A/PLG collection shows members of Asian/Pacific Lesbians and Gays, the first formal organization created by and for LGBTQ Asians and Pacific Islanders in Los Angeles, at a Pride march, retreat, and drag show. The William S. Tom collection documents his participation in Pride marches in Los Angeles and San Francisco as well as the 1993 March on Washington for Lesbian, Gay, and Bi Equal Rights and Liberation.
>> Browse the A/PLG collection
>> Browse the William S. Tom collection
10. Queer Asian Pacific American History Tour
Last but not least, the Resilience Archives' Queer APA History Tour offers a digital, COVID-safe way to explore the history of LGBTQ AAPI communities in the Bay Area. The interactive map has nearly 200 pins, each one using photos, fliers, videos, artwork, and other materials to help make these hidden histories visible.
>> Take the Queer APA History Tour
—
By Nina Wallace, Densho Communications Coordinator
*I've used the self-applied identifiers from each project and made an effort to highlight resources that, when using umbrella terms that link Asians and Pacific Islanders, do in fact include Pacific Islander stories. That said, this content is still heavily weighted toward Asian American history, and I encourage folks to seek out Pacific Islander voices to understand the criticisms and limitations of the API/APA/AAPI label.
Are there other resources we should know about? Tell us in the comments!
[Header photo: Asian/Pacific Queer-n-Proud marchers at the 1993 March on Washington for Lesbian, Gay, and Bi Equal Rights and Liberation. Photo courtesy of the ONE National Gay and Lesbian Archives.]